I translate from English, Spanish and Dutch to French (France/Belgium).
My key specialisms are:
Reasoned translation[1], i.e. producing native, properly structured, unredundant, consistent and culturally appropriate French.
Writing: Many end clients/PM's feel the need to look for translators who "specialize" in specific audience/material/writing style combinations. If you are one of them, you should understand that knowing how to write precisely means knowing how to adapt to context, which is simply an absolute must for professional translators.

It should also be obvious to anyone that someone able to translate complex material can also probably translate anything simpler, without necessarily needing "extensive experience".
As we say in French: Qui peut le plus peut le moins (if you can do the big things, you can do the little things as well).

If you are involved in any way in translation projects, you should understand that:


« [Le traducteur] doit savoir manier sa langue maternelle avec aisance, en connaître les finesses et les possibilités, en un mot savoir écrire, afin de transposer l'œuvre originale dans sa propre langue avec le style qui convient. C'est dire que la seule connaissance linguistique est insuffisante, qu'une culture générale étendue et le goût littéraire sont indispensables au traducteur »[2] ~ A. Picard
This being said, subjects I am most interested and experienced in are the following:


Legal
Articles of association, agreements, hearing minutes, birth and marriage certificates, etc.
Asset Management · Finance · Accounting
Fund commentaries, market reviews, investment strategies, prospectuses, KIIDs, Sustainable and Responsible Investment, annual reports, financial statements, IFRS-related material, etc.
Information and Communication Technologies
(7 years experience as a software developer on IBM/Bull mainframes, Sun certified programmer for the java 2 platform, designer/developer/webmaster of this website, with several web development projects in the pipeline)
Project scoping, BRDs, GUIs, RFPs and bids/tenders, user manuals, white papers, etc.
Management
Corporate Communication, Governance, Social Responsibility, Sustainable Development, Business Process Management, Business Process Reengineering, Human Resources/Talents Management, training material, etc.
Market Research · Benchmarking
Surveys, Cross-disciplinary Research, Benchmarking, Industry Analysis Reports, training material, etc.
International Cooperation/Development · Humanitarian Aid
Cluster approach, accountability, humanitarian/military dialogue, equality and non-discrimination, gender, gender-based violence, mental health and psychosocial support, early child development, disaster risk reduction, disaster preparedness/response/recovery, sanitation and hygiene, etc. (more details in my CV, available upon request)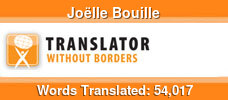 It is worth noting here that the humanitarian sector is in dire need of native and professional authors and translators, especially since a huge proportion of written material on humanitarian aid originates in so-called "multilingual"[3] environments, such as UN agencies. As underlined by Marie-Josée de Saint Robert about translation at United Nations agencies, "Les interférences sont légion entre langues maternelles et langues dans lesquelles rédigent les auteurs de rapports à l'ONU. Aussi n'est-il pas rare de rencontrer dans les textes anglais de l'ONU une phrase du type 'The project has been approved not approved', qui, en chinois, correspond à une interrogation [...]."[4] In my experience, UN French material is no better, as it mostly mimics English originals that are poorly written to begin with and any attempt to raise issues is met with instructions to "please stay consistent with existing 'French' (?) and refer to the UNTERM database", which is but an online dictionary created from a poorly edited UN corpus. Different perceptions about proper writing also clearly play a role here: in Asian languages, there is a tendency to talk around the subject and to only hint at conclusions, because of concerns about losing face. In French, this same approach is exactly what will make the author "loose face", because the text will be perceived as padded, redundant and poorly structured. C'est ce que nous appelons, en français, la langue de bois, ou plus ironiquement, la « xyloglossie » (à prononcer avec la bouche en cul de poule, bien sûr).
Psychology · Cognitive Psychology
MHPSS, counselling and self-development/self-help websites/books, business-applied psychology, psychometrics, papers, training material, etc.
I also designed this website and work on several other app/web projects in my free time, as well as on a book about the human psyche.

For a copy of my detailed CV, please just send a message to quote@joellebouille.com.
[1] Delisle, J. (2013). La traduction raisonnée - Manuel d'initiation à la traduction professionnelle de l'anglais vers le français. Les Presses de l'Université d'Ottawa. 3rd edition. Back to text
[2] Picard, A., La qualité en matière de traduction, Bad Godesberg, p. 94. Back to text
[3] True bilingualism is extremely rare, and anyone claiming multilingualism probably does not set the bar very high. In most cases, one language tends to prevail in terms of mastery and fluency. This is why professional translators are normally required to translate towards their native language only. As for bilingualism, "a true bilingual is someone who is taken to be one of themselves by the members of two different linguistic communities, at roughly the same social and cultural level." ~ Thiery, C. (1977). True Bilingualism and Second-language Learning. Université Paris III - Sorbonne Nouvelle. In Language Interpretation and Communication, p. 146. Back to text
[4] Marie-Josée de Saint Robert, Le discours spécialisé à l'ONU : chances et défis pour le traducteur, in Traduire, Revue française de la traduction, no 228, p. 6-21. Back to text